Now Available – Melissa's Latest Book (order here)
Matridonal Remedies of the Humanum Family: Gifts of the Mother
This is the newest of Melissa's books, years in its conception. It pulls together strands to weave into the story of the Matridonal Remedies, part of the Humanum Family:
Lac Humanum
Folliculinum
Placenta Humana (Welsh)
Vernix Casoesa
Amniota Humana
Umbilicus Humanus
"As I have worked with these important remedies over the years, I have come to believe that the most profound gift we as humans receive is the sense of self. It is first bestowed in its earthly form in the womb. Could it not therefore be true that when this sense of self is lost, it can be retrieved through the very materials that gave it to us in the first place? These substances are made for the creation of our humanness. It is their sole purpose, as they are discarded as soon as we no longer need them." – Melissa Assilem
Download/view HPathy's book review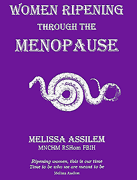 Women Ripening Through the Menopause (order here)
This is a thought provoking and empowering book full of information for women and those who love and care for them.
Melissa says, "Our self image is a major factor in determining our internal health, but before we can feel good about ourselves we need to unlearn the falsehoods of our culture." She demonstrates the importance of strong and powerful older women in our society, using myth, and archeological evidence, poetry, and remedy pictures. She reveals how HRT as a strategy for treating women is a continuum from the past.
Melissa shares her personal perceptions, learnedcrone wisdom and insights as an experienced homeopathic practitioner. Among the innovative remedy pictures are Sepia, Cimicifuga, Folliculinum, Lachesis, Arsenicum, Helonius, and Senecio. (Visit Shop to Purchase)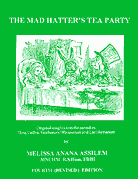 The Mad Hatter's Tea Party (order here)
This book presents fascinating insights into the remedies
Thea (tea)
Coffea (coffee)
Saccharum Officinarum (sugar)
Lac humanum (mother's milk)
Each essay is a mixture of the historical, metaphysical, psychological, and physiological significance of these substances. Melissa weaves her words with both whimsy and wisdom and has made a valuable contribution to our understanding of these important yet under-used homeopathic remedies. (Visit Shop to Purchase)
"This book is fantastic – it is clear, detailed and very helpful. Everything is laid out really well and has interesting cases. I have found the book very pleasant to read and suggest it to anyone who is really interested in the field. Written by author who obviously knows her subject in great depth." From the review in Homeopathy International, Spring 2009. Read complete review
Matridonal Remedies Handout (CHMS Conference, 2015)