Spring Equinox
Cardinal Fire – Ruled by Athena/Mars
Deity – Persephone
With a bit of whimsy, I have added Athena as Aries ruler. She was the Greek Goddess of War. Later, the Romans changed the gender of the war deity to the male god Mars. They did not think women warriors were appropriate. Ares was also the Greek male God of War but was not very highly regarded. Athena was the deity of war, protecting Athens and her territories. Her shield held the head of the fierce Gorgon Goddess Medusa. (see Scorpio).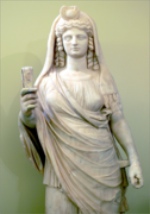 The Goddess of Spring was Persephone, and in very early Greek mythology the first sign of spring was celebrated as the return of Persephone from the underworld to her mother, Demeter(Earth Mother, see Virgo). In the story she leaves Earth as a child and returns as a young woman. Her journey is one of initiation. When she returns, her mother's joy is reflected in the exuberance of spring. This story of Persephone's return was celebrated at the Spring Equinox for more than 2000 years, at what became to be the Eleusinian mysteries.
Click Below to hear Melissa tell Persphone's Original Story.
Aries – The Sun enters Aries along with the arrival of Spring. It has a hasty, rash, but exciting energy that burns bright with spring fever. It is one of exuberance. This is like a sparkling fire, reflecting the rise of spring as the sun begins to warm the earth. This is an electric, speedy sort of energy that may sometimes miss out on the more subtle aspects of life. The challenge is to channel this fire energy and passion into long-term accomplishments.
Tinder Tender
The energy of this harmony is like a tinderbox, ready to light your fire, but more gentle and tender than the explosive power of the Aries firebrand. It will help you direct live-wire energy to good purpose. It may also help those who have had their fire energy fizzle out, are exhausted, depressed, have lost their libido, or their creative spark. It is an gentle enlivener, lifting the spirits and passion bringing spring fever to the libido, rekindling the spark that may have been lost, but with a balanced sweetness.
Broom – Feminine Power-broker Yin Enhancer
Fig – Passion Booster
Giant Fennel – Gentle Kindler
Pomegranate – Change-Maker
Tree of Life – Identity Clarifyer
Walnut – Safety Net