Cardinal Water – Ruled by the Moon
Deity – Selene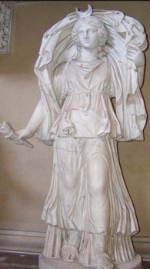 "I am the bright silver moonlight among the stars, pulling all waters of Mother Earth towards me, bringing ebb and flow to all of life. I soften the sharp edges of the outer world, pulling you into the unconscious, connecting you to your emotional center where my daughter Psyche spends her time. When I disappear from your sight, but I am still always there, hidden from the Suns glare. Dream in the shadows, hum in your safe shell allowing your emotions to flow around you knowing I am there to guard you."
Cancer – The Sun arrives in Cancer just after the longest day of the year, the Summer Solstice. This is a time of openness and exuberant growth and warmth,. Our world is still responding to the bright light and vitality of the sun's heat, but this day marks the beginning of the suns long return to the dark. The energy of Cancer can have a guarded response to so much stimulation, being perhaps overwhelmed by it, and welcoming the moon as she rises gently into the sky. This sensitive energy responds to the enormous force of the sun with the need for protection from its glare, seeking shelter in the shadows to a quiet, sensitive, psychic openness. The imaginative, vulnerable, feelings of floating alone in a sea of tender feelings, with no anchor, overwhelmed and over stimulated by ones own and everyone else's emotions, results in a strong need for seclusion and a safe haven.
Safe Haven
This harmony is about helping you find a safe haven to regain your usual strong spiritual connection, especially after feeling bombarded with too many assaults on your boundaries.
All of us can become lost in our feelings and become disconnected from our inner safety net and feel unprotected and vulnerable. This essence is about finding the shelter you need.
Almond Amber – Self Protector
Giant Fennel- Gentle Kindler
Poke Flower – Emotional Safety Net
Pulsatilla – Self Lover
Staphysagria – Stand your Ground
Tamarisk – Deep Inspiration